Wish your birthday fantastic,fabulous,frolicsome,super,smashing,sensational "LUCKY" lighthearted, delightful,beautiful, bright,cheerful "CRAZY" amusing fulfilling, "REWARDING" pleasing stupendous wonderful, amazing,exciting the "ULTIMATE" walter happy 10th b-day son.Next to him is magglio ordonez his favorate detroit michigan baseball player.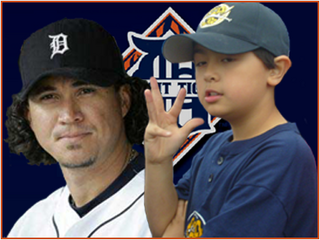 Happy fathers day to my hubby and to all fathers have a good one.


"VOYAGE" melaney is very lucky lady, shes been assign to work here in michigan at lear by her employee, been here for over a year i believed, unfortunately its time for her to go back home...were going to miss you melz and i really enjoy your company you take care and God Bless.




I apologize for posting all at once lol im on a borrowed time, have a good day.