A Hug Certificate for You!
This poem is very sweet. It will be interesting to see who come visit my blog and read . Dont forget to leave your paw frints. Thanks!
If I could catch a rainbow
I would do it just for you
and share with you its beauty
On the days you're feeling blue.
If I could build a mountain
You could call your very own;
A place to find serenity,
A place to be alone.

If I could take your troubles
I would toss them in the sea,
But all these things I'm finding
are impossible for me.
I cannot build a mountain
Or catch a rainbow fair,
But let me be what I know best,
A friend who's always there.
This is a Hug Certificate!!

TAG TO All MY Friends: Who You Think Deserve your Hug
(Which, Hopefully Includes the Person Who give you the hug).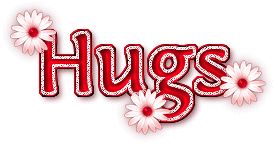 If they come back more than once, there your friends and they care for you. If they came more than 3 times or more, there are angels watching over you....
FOR YOU
FROM ME KOOKIE